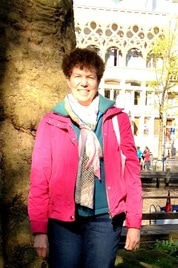 Creative Moments My Way For You

The colors I mix on my pallet are bold, bright, and sometimes surprising. Results may not always realistic to nature but are definitely influenced by it. Finding the right hues makes my paintings pop. It is harmony on the canvas, something special to share with others.

I am an impressionist painter. Acrylics are my medium of choice. My subject matter is found in the great outdoors. Observing and interpreting what nature has created, I let my imagination go to work. For inspiration, I take photos on location and then manipulate them to lead me into new, uncharted directions.



About the Artist
Susan Owens (b. 1957) is a second-generation Colorado native. She grew up and lives in Colorado Springs. Susan entered her first art competition in grade school, submitting a drawing for the Denver Post Christmas edition. She did not win, but that was the start of a life-long love of creating art.

From art lessons after school to acceptance into an advanced placement art program in high school, Susan enjoyed making and sharing her art. Susan attended Colorado State University, first as an art major, changing to business. She graduated with a Bachelor's Degree in 1980 and moved to Denver to begin a professional career in Human Resources. In 1992 Susan and her husband moved to the Colorado mountains to pursue their entrepreneurial dreams. Susan started her own consulting practice, while continuing to draw and paint. She entered art shows and began selling her work. The first time she entered the Glenwood Springs Fall Arts Festival, Susan was named Grand Reserve Armature Champion.

In 1998 Susan and her husband moved back to Colorado Springs where they live and work today. After the loss of her younger brother in 2012 and a health scare of her own in 2013, she decided it was time to make painting more than just a past time. She now works from a home art studio following her passion.



---
Susan Owens
P.O. Box 7594
Colorado Springs, CO 80933
Email: susan@owens.org
Telephone: 719-444-0402